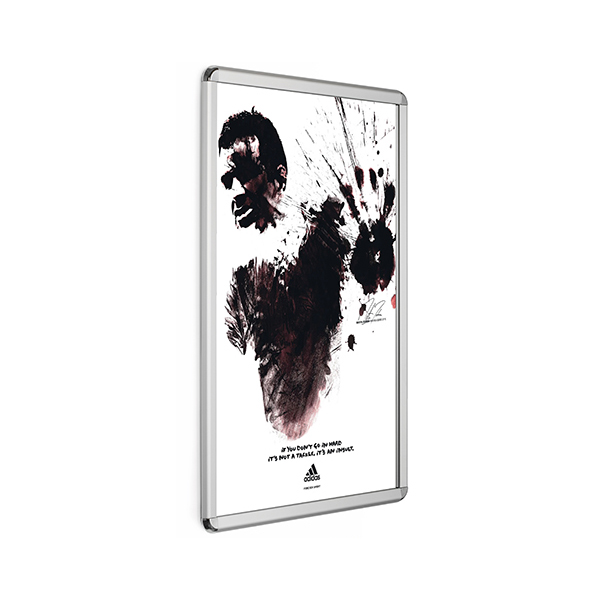 32mm poster frame(PTC-SF-4)
---
Board width 32mm Protect image safe Clip system easy to change graphic
Price:Only vip can see, please Register and Log In.
---
Share this:
It is ideal for hanging on wall or window glass to present image .
Many graphic size is available . and it is easy to change graphic
clip poster frames
Board width 32mm
Protect image safe
Clip system easy to change graphic
32mm clip poster frames
1)A fast and easy solution to sign and display requirements.
2)Clip system easy to change graphic
3)Material : 32mm aluminum alloy, PVC corver sheet, PS back board
4)Sizes: A0, B0, A1, B1, A2, B2, A3, B3, A4, B4
5)color :silver and other color according to customers need
6) there is a piece of PVC film 0.35mm thickness for the cover protact the poster from breaking
7) there are three metal hooks on the back for hanging
8)1.5mm gray PS board for the bottom board
9) high quality and durable
| | | | | | |
| --- | --- | --- | --- | --- | --- |
| Item No. | Graphic Size | N.W. | G.W. | Pcs/ctn | Carton size |
| PTC-SF-4-A0 | 841×1189 | 3.9 | 21kg | 5 | 129×13×93 |
| PTC-SF-4-A1 | 594×841 | 2.2 | 23kg | 10 | 93×23×68 |
| PTC-SF-4-A2 | 420×594 | 1.4 | 15kg | 10 | 68×23×49 |
| PTC-SF-4-A3 | 297×420 | 0.9 | 20kg | 20 | 49×46×37 |
| PTC-SF-4-A4 | 210×297 | 0.6 | 15kg | 20 | 36×46×26 |